Today marks the 15th anniversary of Steve Jobs pulling the MacBook Air out of a manila envelope at the 2008 Macworld Expo in San Francisco. Apple advertised the MacBook Air as being "the world's thinnest notebook" at the time.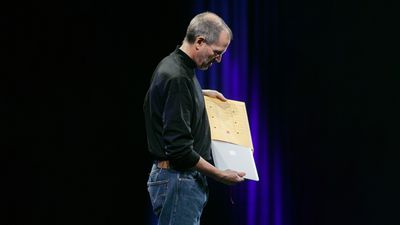 "We've built the world's thinnest notebook—without sacrificing a full-size keyboard or a full-size 13-inch display," said Jobs, in a January 2008 press release announcing the MacBook Air. "When you first see MacBook Air, it's hard to believe it's a high-performance notebook with a full-size keyboard and display. But it is."

The original 13-inch MacBook Air featured a flip-down tray on the right side of the machine that provided access to a single USB port, a headphone jack, and a Micro-DVI port for connecting an external display. It was Apple's first notebook with a multi-touch trackpad, no CD/DVD drive, and an SSD upgrade option. Pricing started at $1,799 in the U.S. with a 1.6GHz Intel Core 2 Duo processor, 2GB of RAM, and an 80GB hard drive.

Apple released a completely redesigned MacBook Air with the M2 chip last July and continues to sell an older version with the M1 chip. Given the power efficiency of Apple silicon chips, the MacBook Air is no longer equipped with a fan. While the original MacBook Air measured 0.16-inches at its thinnest point and 0.76-inches at its thickest, the latest MacBook Air has a flatter design with a uniform thickness of 0.44 inches.

Rumors suggest a larger 15-inch MacBook Air will launch this year, and the notebook is expected to be updated with an OLED display next year.
2022 Apple MacBook Air Laptop with M2 chip
2022 Apple MacBook Air Laptop with M2 chip: 13.6-inch Liquid Retina Display, 8GB RAM, 256GB SSD Storage, Backlit Keyboard, 1080p FaceTime HD Camera. Works with iPhone and iPad; Midnight
Price: $999
STRIKINGLY THIN DESIGN — The redesigned MacBook Air is more portable than ever and weighs just 2.7 pounds. It's the incredibly capable laptop that lets you work, play or create just about anything — anywhere.