Smart home company Eve in December began rolling out
a firmware update
that adds Matter support to the Eve Energy, Eve Motion, and Eve Door and Window. I have been testing the new Matter integration to see how the devices work with a standard
HomeKit
setup.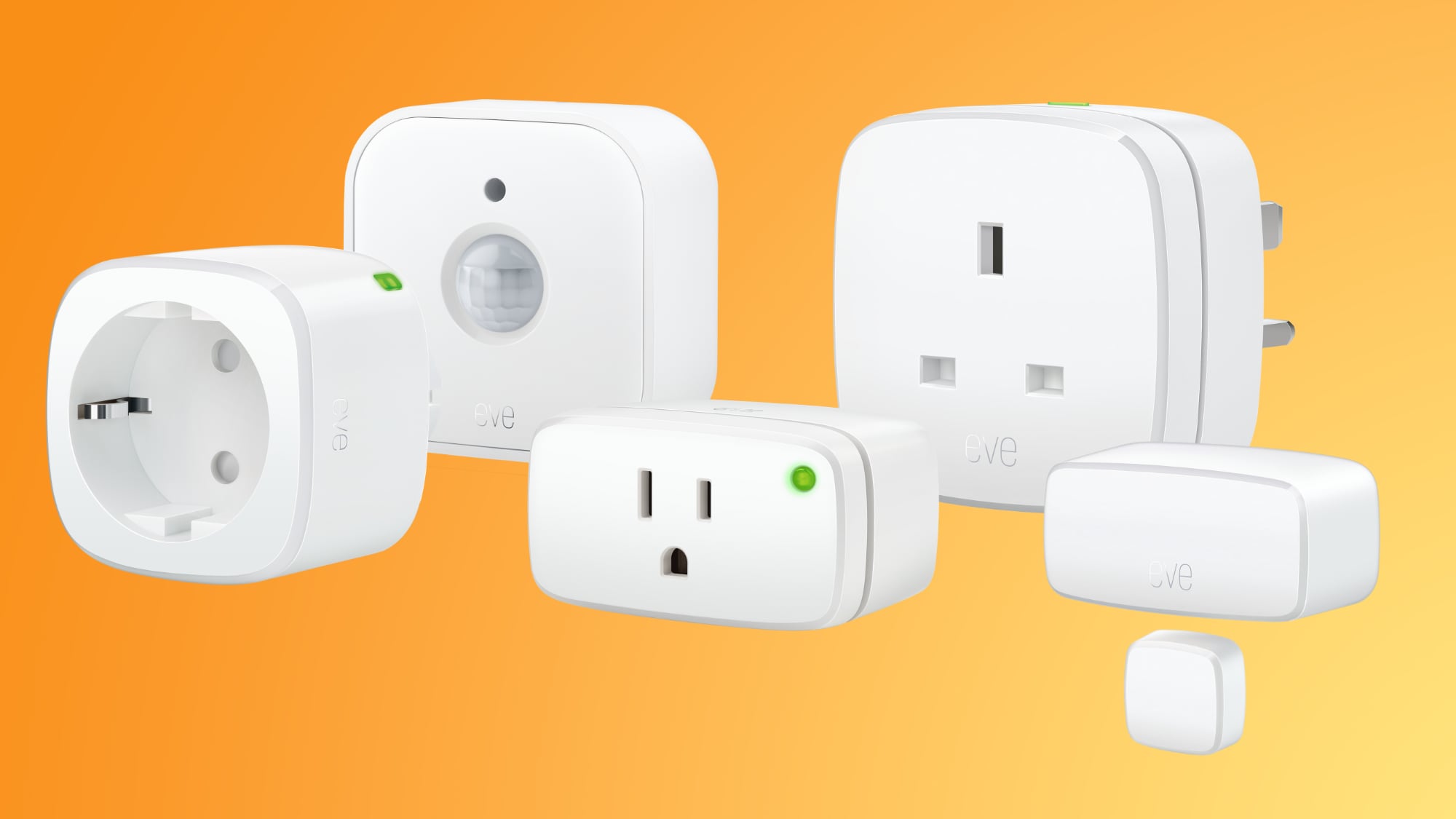 I have the Eve Energy, Eve Motion, and Eve Door and Window accessories, all of which have been out for some time but have been updated to work with Matter. If you're not familiar with Matter, it is a newly released smart home standard that's been adopted by Apple, Samsung, Google, Amazon, and other smart home manufacturers. Matter is designed to allow smart home accessories to be added to any smart home platform that supports the Matter standard.
So Matter-enabled devices from Eve can be added to ‌HomeKit‌, or can be used with Google and Amazon's smart home platforms, and
iPhone
and Android smartphone users in the same household can control the accessories with their respective devices. ‌HomeKit‌, meanwhile, is Apple only and needs to be accessed from an Apple device.
I don't want to go into too much detail on the specifics of the Eve accessories since this review is mostly for the Matter experience, but I'll give a quick rundown. The Eve Motion is a motion detector that is designed to allow you to activate lights and other devices when motion is detected. Eve Door and Window attaches to a door and can let you know when the door is opened, both for alert purposes and to activate other accessories in automations. Eve Energy is a smart plug, so you can plug anything in and then control it with your Apple devices and
Siri
commands.
All three of these have Matter support, but right now, Matter needs to be added through a firmware update. So if you already own these devices or buy them with the intention of using them with Matter, be prepared to add new software. Assuming new in the box devices, the first step is to add them to ‌HomeKit‌.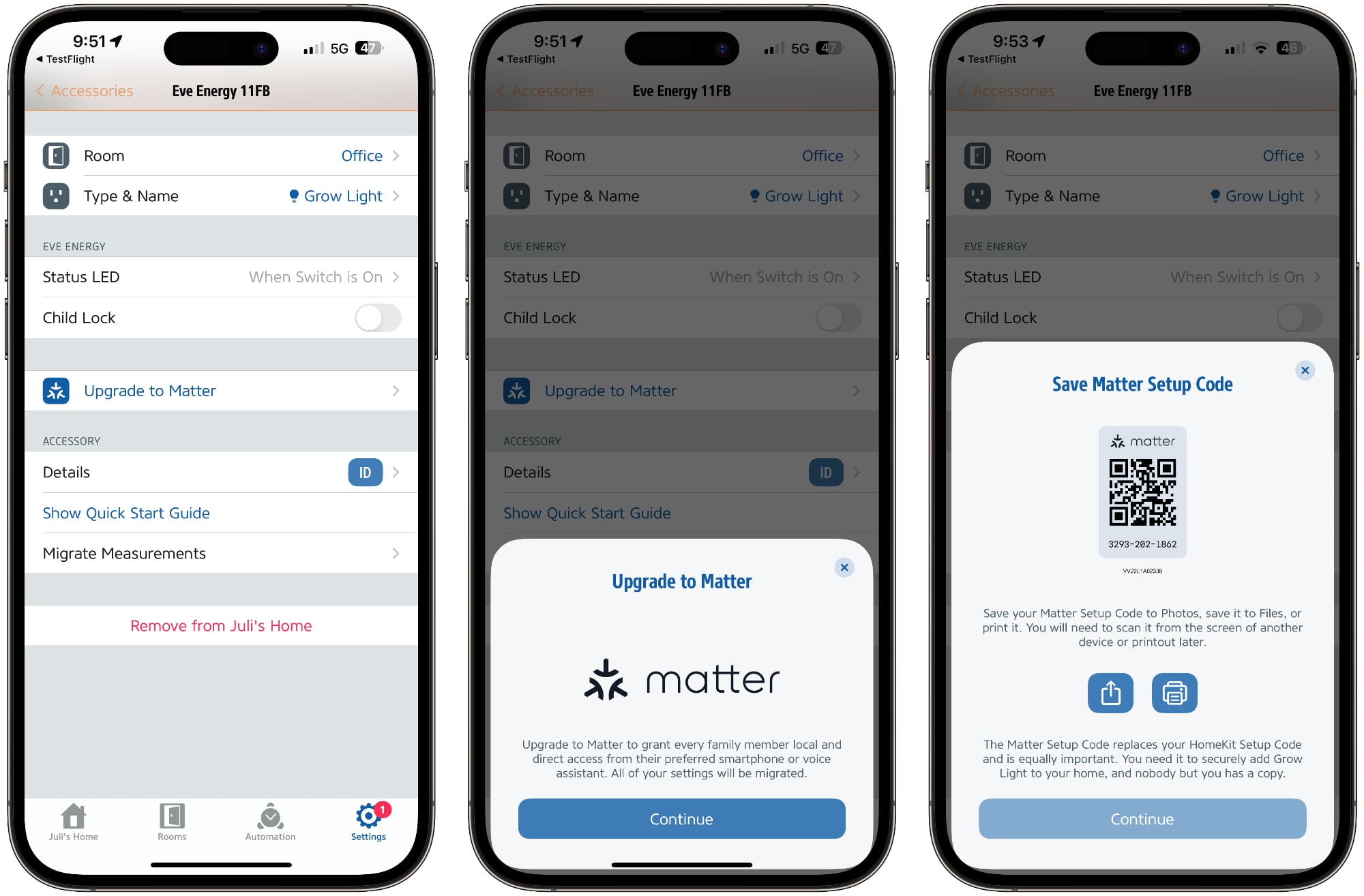 Adding them to ‌HomeKit‌ requires opening up the Home app and scanning the QR code, and it's the same as it is for any ‌HomeKit‌ product. Once that's done, the Eve app is required, and you'll need to give it access to your Home setup. Matter support is not yet officially available, but Eve has
a TestFlight version
of the app that users can sign up for to test Matter through the Early Access Program.
In addition to one of Eve's supported devices and access to the Eve TestFlight app, a device running iOS 16.2 is required, as is a Home Hub, which includes the
HomePod mini
or
Apple TV
4K.
With the TestFlight version of the Eve app and an Eve Door and Window, Eve Energy, or Eve Motion device added to ‌HomeKit‌, the Eve app can download a firmware update to install Matter. Transitioning to Matter is a one-time irrevocable swap, so once you upgrade your Eve device to Matter, there's no going back.
The upgrade process isn't difficult, but it's also not super simple. The Eve app will walk you through the steps, starting off with generating a new Matter QR code. The Matter QR code looks similar to the ‌HomeKit‌ QR code used to set up a ‌HomeKit‌ device, but it is Matter and not ‌HomeKit‌. This code entirely replaces a ‌HomeKit‌ code, so you need to make sure to save a copy of it, which the Eve app reminds you of multiple times.
In fact, you can't go through the setup process without printing or saving a copy of the new Matter code, and you're going to want to hold onto it similar to ‌HomeKit‌ codes. Since the Matter code replaces the ‌HomeKit‌ code, your existing ‌HomeKit‌ code is no good. In the future, Matter codes will be printed on device like the ‌HomeKit‌ codes, but right now for firmware updates, it's important to keep Matter codes extra safe.
Setup will require a printout of the Matter QR code or a secondary device because after getting the new code, you need to scan it with your primary device to connect the Eve product to Matter. After that, there is a ‌HomeKit‌ to Matter migration process, which took about 10 minutes in my testing.
When Matter-compatible devices are on store shelves and don't require firmware updates anymore, setting up devices will be much simpler. In fact, it's basically going to be the same as setting up a ‌HomeKit‌ device right now, so it should be fairly painless if you're already familiar with ‌HomeKit‌ setup.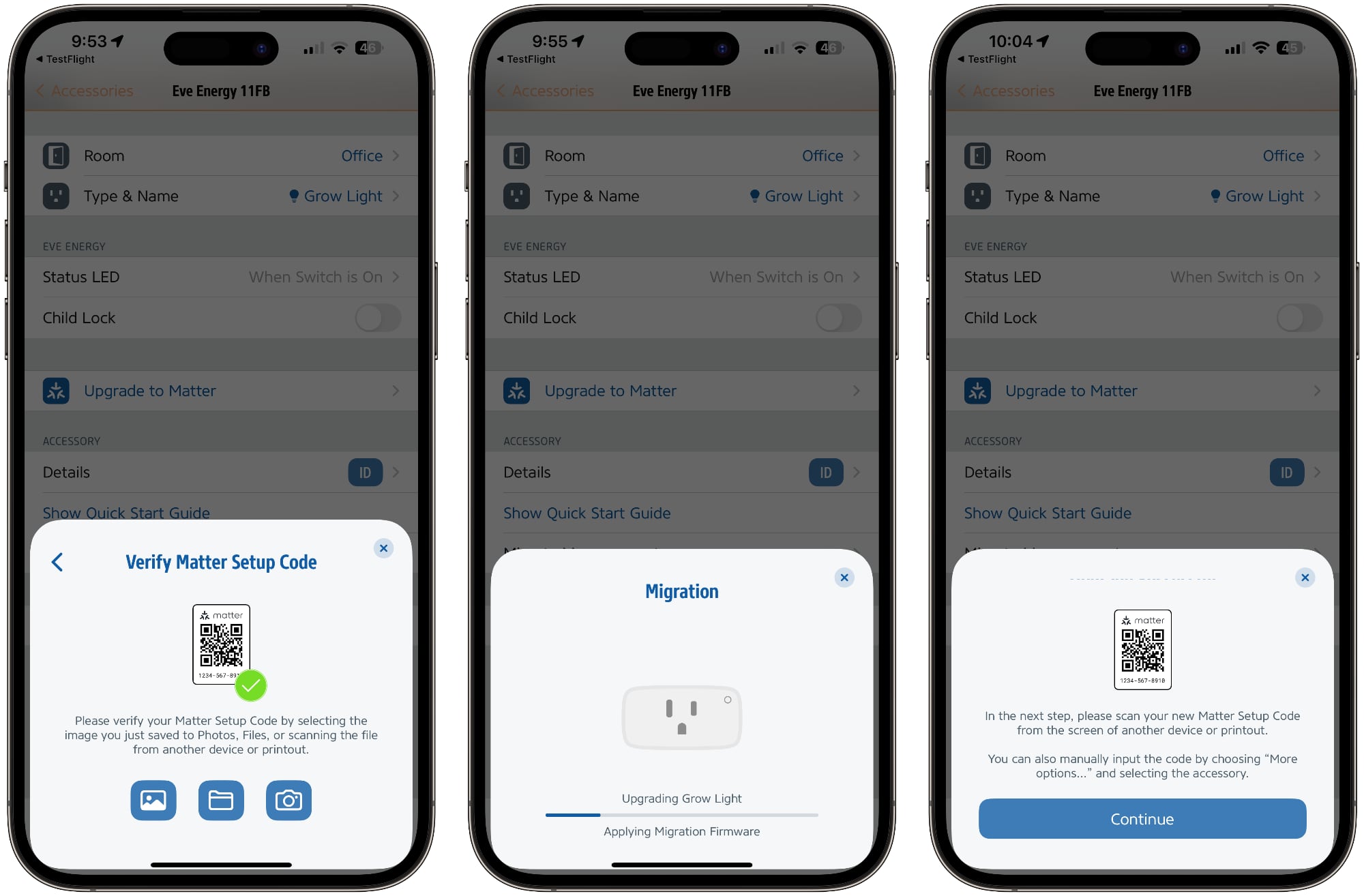 In the Home app, Matter devices work just like ‌HomeKit‌ devices, and I can't tell a difference in the functionality. In the Eve app, I can see that a device is "Matter" and not "‌HomeKit‌," but the Home app gives me no particular indication.
Controlling a Matter device is indistinguishable from controlling a standard ‌HomeKit‌ device, which is how it's all supposed to work. Automations, scenes, and schedules continue to work as expected, both in the Home app and through the Eve app. I do want to point out that Eve devices are Thread enabled, and are meant to offer better integration with Thread devices than standard Bluetooth.
I've been using the Eve devices with Matter for over a week, and the performance is about the same as I get with ‌HomeKit‌, but I am having an ongoing issue with the Eve Energy. It disconnects every day or every two days, and it stops communicating with my home setup and becomes inaccessible in the Home app. I have this problem with HomeKit-enabled smart plugs too, but not usually with this frequency. I asked Eve about the issue, and was told that it is a known problem that will be solved with upcoming updates.
This is indeed a known problem with the current combination of home hub software versions and our accessories. In most cases the accessory can still be reached for custom functionality, such as ID feature in the Eve app. We're working closely with Apple to identify what's wrong, but in the meantime, usually rebooting the home hubs will help for a while. Removing the accessory from home and adding it back may help on the short run, but they will likely drop off after sometime later again. Overall, future updates of iOS and the Eve app with the firmware should alleviate the problem over time.
I'm an Apple user with a ‌HomeKit‌ setup so I don't have insight into how Eve's Matter devices work with other platforms like Google Home and Samsung SmartThings, but for ‌HomeKit‌ users, I can confirm that Matter is essentially the same experience as ‌HomeKit‌, with no major changes to expect from the cross-platform Matter devices.
There is, however, one exception. You can use ‌HomeKit‌ products without a Home Hub (‌HomePod mini‌ or ‌Apple TV‌) but these are required for Matter because Matter devices need a Matter controller. So you shouldn't pick up Matter accessories or upgrade your ‌HomeKit‌ devices to Matter without one.
If you have someone in your home who uses an Android smartphone and hasn't been able to access smart home products, Matter will make a major difference. Likewise, Android users who have wanted access to products like Eve Energy and Eve Motion will now be able to use these devices that were once Apple Home exclusives.
From ‌HomeKit‌, you can add a second platform like Google Home to your home setup to allow your devices to be controlled though Google hubs or Android smartphones. Just open up the Apple Home app, long press on the tile for the Eve product, select the settings, and then tap on "Turn on Pairing Mode." You will need a Matter controller from the
other
smart home platform, so if you want to use your Matter devices with ‌HomeKit‌ and Google Home, for example, you'll need a ‌HomePod mini‌/‌Apple TV‌
and
something like a Nest Mini or Hub Max.
Amazon hasn't implemented full Matter support yet (setup works on Android smartphones), but
many Echo devices
will work with Matter, so in the future you'll be able to control smart home products with your ‌iPhone‌ and your Amazon Echo/Nest Hub. Matter will be most beneficial to those who use two smart home platforms, but it will expand the number of smart home products available to ‌HomeKit‌ users, and so far, it doesn't look like there will be any major hassles to deal with when transitioning.
Starting in late March
, Eve will sell Matter-enabled devices that work right out of the box and that don't need to have their firmware updated before the Matter integration works, which will be more convenient. Later in the year, Eve also plans to update other Thread products with Matter support. Eve's Matter-compatible devices can be purchased from the
Eve website
or
from Amazon
.
This article, "
Review: How Eve's Matter Accessories Work With a HomeKit Setup
" first appeared on
MacRumors.com
Discuss this article
in our forums
Source:
TechRadar