For any presentation, whether musical, instructional, or somewhere in between, being heard clearly is vital. Not just any old sound system will do. Weak systems won't let you be heard by everyone. Some may distort at high volumes or present poor dynamics as speakers interfere with one another. Worse still, basic systems may lack a way to avoid the ever-dreaded feedback squeal that can turn an attentive audience into one on edge.
For a sound system that can perform in small, intimate venues and scale up to power through at far more demanding settings, JBL's new line of EON 700 portable, powered PA speakers is built to fit the bill.
JBL is a well-regarded and recognized brand in pro audio with decades of experience delivering equipment to meet the wide variety of needs in the space. The new EON 700 Series continues on this tradition with a handful of powerful, full-range speakers and an epic subwoofer to support them. The speakers are further complemented by JBL's suite of basic and advanced controls that make managing the sound system a breeze.
JBL offers a range of capable, full-range loudspeakers with the 10-inch woofer on the EON 710, 12-inch EON 712, and 15-inch EON 715. These mighty loudspeakers come bolstered at the high-end by a horn with smooth off-axis beamwidth, helping them achieve a wide frequency response range.
Thanks to refined waveguides, the speakers also deliver broad coverage and wide sweet spots. 2414H compression drivers with neodymium magnets offer balanced response in a lightweight package. All of this comes powered by 1,300 watts of efficient, discrete Class D amplification for clean and clear sound no matter the volume.
With the EON 718S subwoofer, the sound can bump and thump on another level still. JBL's subwoofer jumps up to 1,500 watts of efficient amplification to deliver smooth and natural bass response down to 31Hz.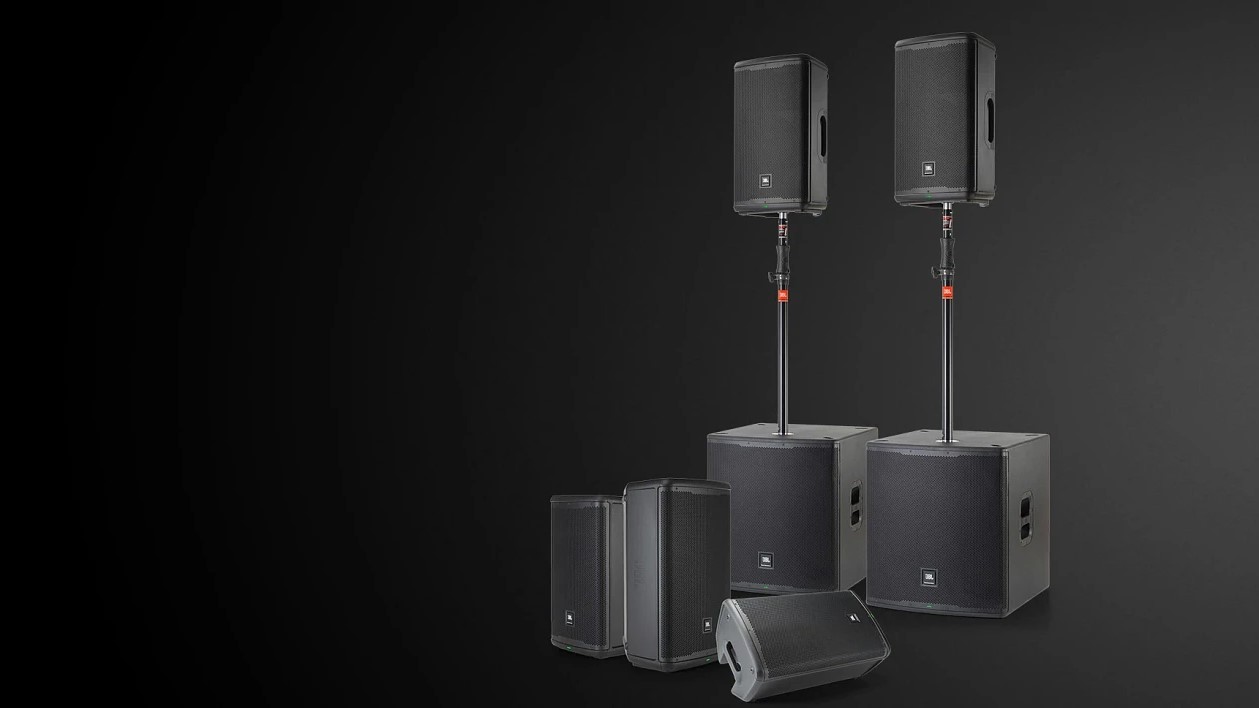 The EON 700 Series comes built and tested for the most demanding scenarios. The full-range speakers come built into composite enclosures with injection molding and mechanical shaping for supreme durability, and the subwoofer sits in a 15-ply birch housing with a Duraflex painting. The speakers are all put through JBL's rigorous 100-hour stress test that sees them pushed far beyond the challenges they'll face in real-world use.
The durability and power of the EON 700 Series is matched by its versatility. You can run speakers individually, pair them with the sub, stack them, fly them, rig them up, or pole mount them. They feature indexed and molded feet for easy stacking in stand-up or cardioid configurations, not to mention the benefit for storage, and they have multiple mounting points to easily adapt to your installation needs.
Given the variety of setups the EON 700 Series can support, they naturally need advanced controls. Each speaker has a built-in DSP and color LCD screen for easy control of the EQ, limiters, delay, ducking, and dbx Automatic Feedback Suppression system. LED indicator lights on the speakers make it simple to see channel status and signal detection.
If you've got a lot of speakers, you can easily manage them all over Bluetooth. With a far-reaching Bluetooth LE connection and the JBL Pro Connect app, you get full control over the speakers internal parameters, an 8-band parametric output EQ, speaker grouping, and whole speaker snapshots. The full-range speakers also feature Bluetooth 5.0 for a high-bandwidth connection to a wireless audio source.
You can learn more about the whole JBL EON 700 Series here, or check out the EON 710, EON 712, EON 715, and EON 718S individually.
Source:
TechRadar