The
iPhone 14
models are available in a range of color options, with entirely new hues available on both sets of devices, as well as some popular classics. The ‌iPhone 14‌ and
iPhone 14 Pro
lineups have different colors to choose from, so if you have your heart set on a particular shade, you may not be able to get your preferred model in that color.
Check out our guide
on the ‌iPhone 14 Pro‌ color options for more information about those devices.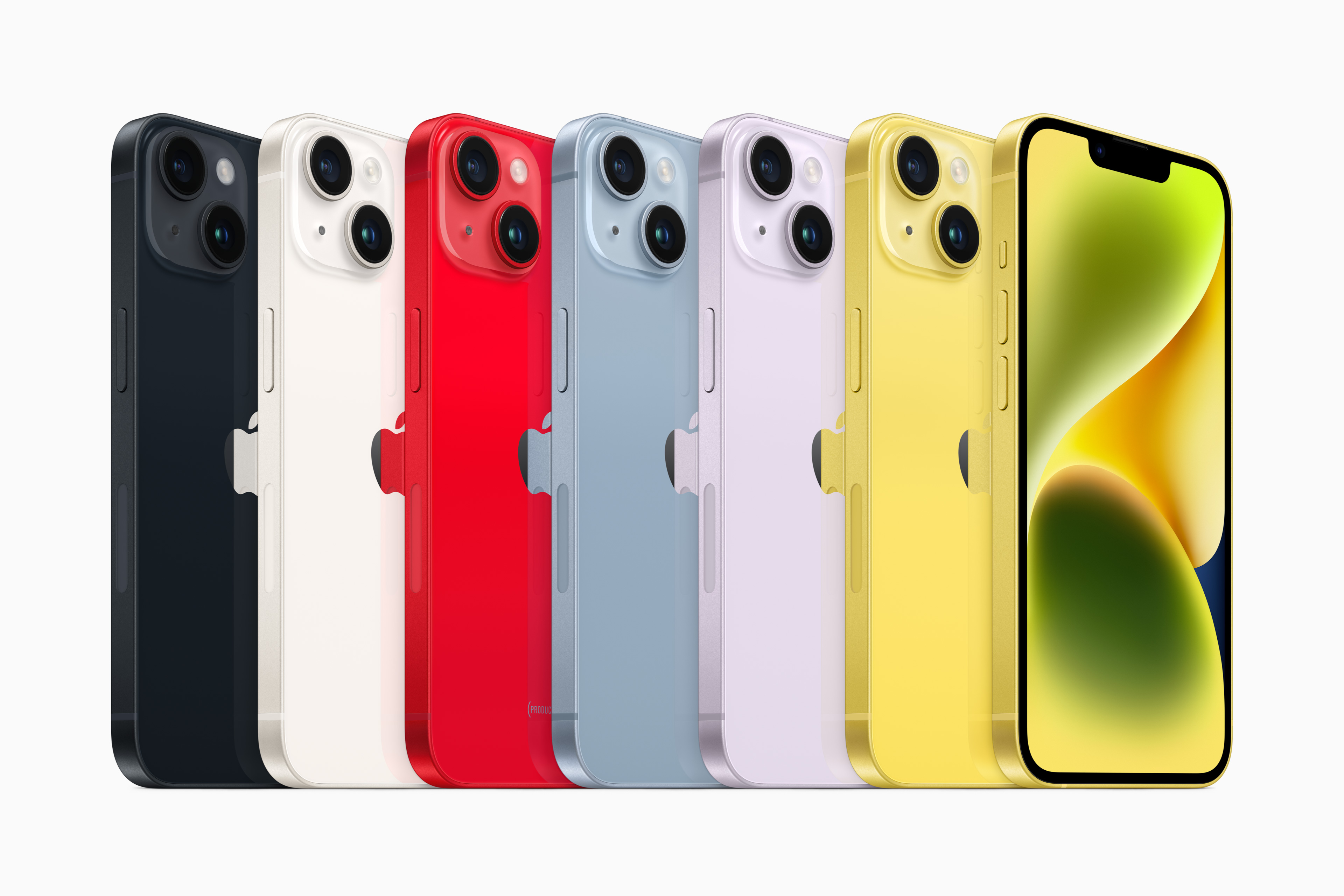 The ‌iPhone 14‌ and ‌iPhone 14‌ Plus are now available in a total of six colors, four of which are new shades. Although previous standard
iPhone
lineup color options have tended to be bolder and brighter, in 2022, Apple chose to offer a slightly more muted color palette, with the exception of a brighter PRODUCT(RED) and Yellow. The ‌iPhone 14‌ and ‌iPhone 14‌ Plus's six available color options are:


Midnight


Starlight


PRODUCT(RED)


Blue


Purple


Yellow


Midnight and Starlight were carried over from the
iPhone 13
lineup, but the new PRODUCT(RED) has been tweaked to be brighter and more saturated. A portion of the proceeds for the (PRODUCT)RED ‌iPhone 14‌ go the Global Fund COVID-19 Response, which provides support to healthcare systems and preserves HIV and AIDS programs in sub-Saharan Africa.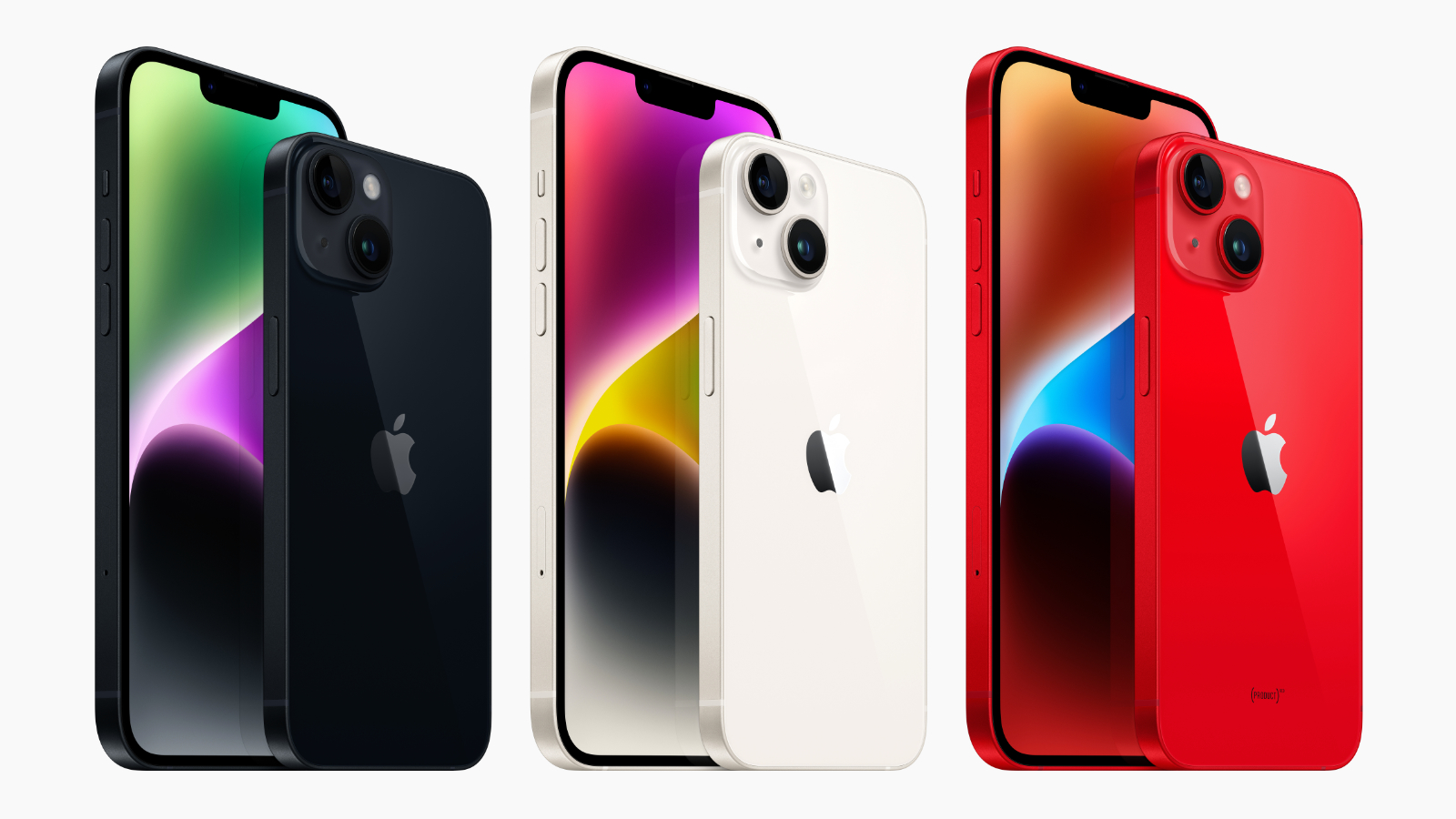 While the ‌iPhone 13‌ lineup was available in a warm Blue with a hint of turquoise, this year's shade is much lighter and more of a sky blue. Purple replaces the ‌iPhone 13‌'s candyfloss-like Pink color and is similarly a fairly subtle, light shade. Green has not been carried over this year.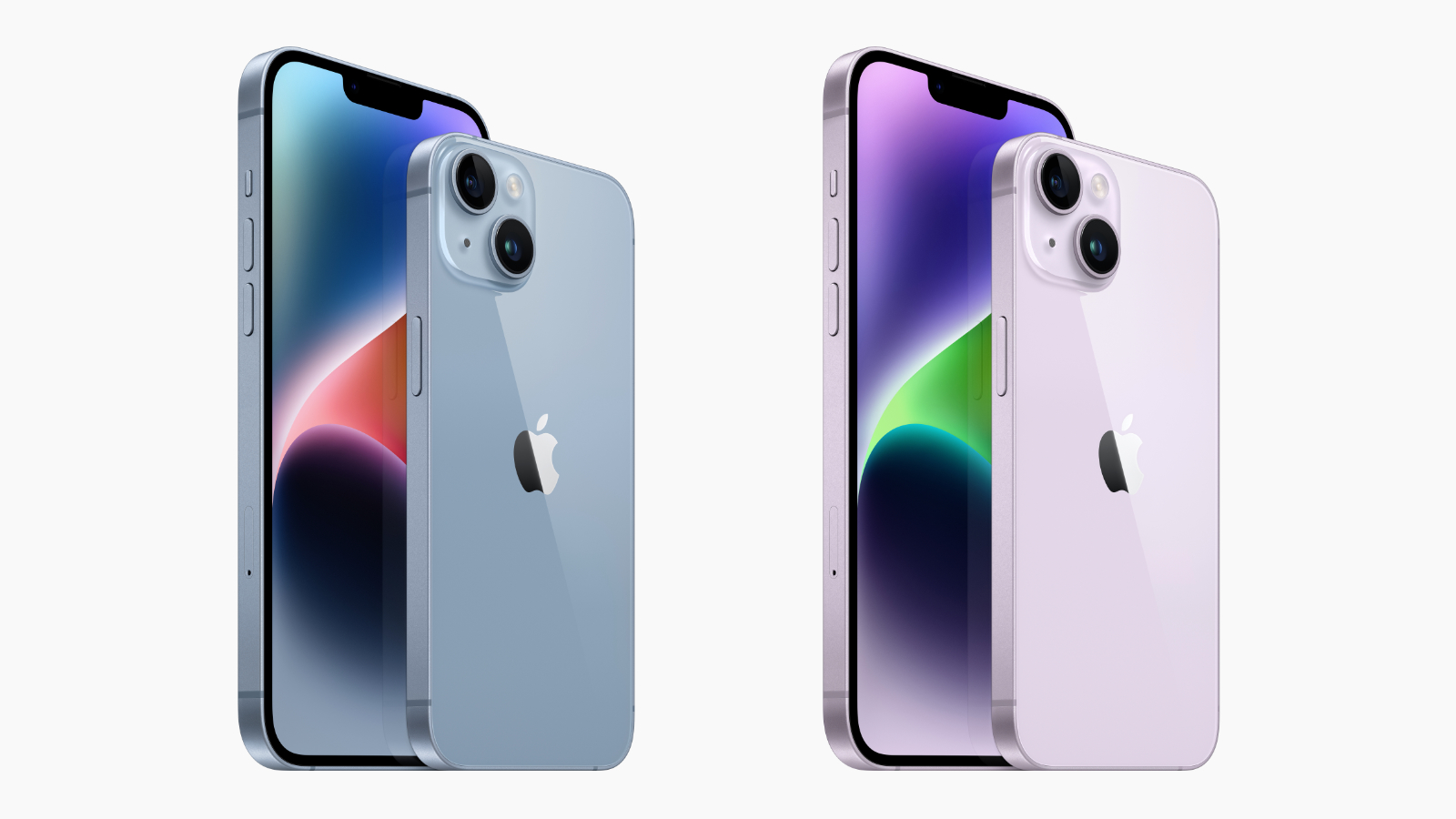 As part of a spring color refresh that also brought new
MagSafe Silicone Cases
,
Apple Watch bands, and AirTag accessories
, Apple
introduced a new Yellow color option
for the ‌iPhone 14‌ and ‌iPhone 14‌ Plus. Apple last offered a Yellow color option for the ‌iPhone‌ in 2019 with the ‌iPhone‌ 11, which came just one year after the Yellow ‌iPhone‌ XR.
Apple usually introduces new ‌iPhone‌ color options in the spring to boost sales midway through the device's product cycle. Last March, Apple introduced a
new Green color for the iPhone 13 and iPhone 13 mini
, and a new Alpine Green color for the
iPhone 13 Pro
models. In April 2021, Apple made the
iPhone 12 and iPhone 12 mini available in Purple
. Having been released six months after the ‌iPhone 14‌ and ‌iPhone 14‌ Plus launched, there will likely be far fewer Yellow ‌iPhone 14‌ models around compared to the other color options, so it could be a good choice for a more unique and up-to-date look.
It is also worth noting that there are no black and white color options in the ‌iPhone 14‌ lineup. Upon the launch of the ‌iPhone 13‌, Apple replaced White, which featured silver aluminum edges, with Starlight. Starlight is similar to the White option from the
iPhone 12
lineup, but is now a distinctively warmer shade that is almost pearl or cream-colored. The silver edges now contain a hint of gold to match the new, warmer look. Starlight is effectively analogous to the ‌iPhone 14 Pro‌'s cool Silver color, but with less prominent matte aluminum edges and a warmer, almost champagne tone.
Likewise, the Midnight ‌iPhone 14‌ should not be confused with previous Black, Space Gray, or Graphite devices and was a new color introduced with the ‌iPhone 13‌ lineup. Midnight replaces Black as the standard model's darkest color option, but differs from Black since it has a slight hint of navy blue.
How to Decide on a Color
If you use your ‌iPhone‌ with a case, you may wish to consider which device color will best complement your case. You may prefer more neutral tones such as Midnight or Starlight, and then use a more colorful case. Alternatively, you could choose a more striking device color like Purple, and then use a more neutral case.

Starlight and Midnight may age better over time as new devices are released since they are more neutral, almost monochrome shades, and have been offered across multiple ‌iPhone‌ generations. If you do not use a case at all, you may wish to take advantage of a more eye-catching color option such as Blue.
Yellow could be a good choice, especially when combined with the Canary Yellow Silicone Case, for a bold look, especially if you have enjoyed similar versions of the ‌iPhone‌ XR and ‌iPhone‌ 11 in previous years.
If you want an ‌iPhone‌ in a brand new shade, Blue, Purple, and Yellow are the only options. The Purple and Yellow, in particular, are the colors that are most noticeably new and indicate that you have the latest-generation device.
Your color choice may also be dependent on how often you upgrade your ‌iPhone‌. If you upgrade every year, you may be more confident in buying a more noticeable new color, but if you keep your ‌iPhone‌ for many years, it may be wiser to consider a color that you have enjoyed before if it is still available.
Customers with multiple Apple devices may also want to get an ‌iPhone‌ color that complements their other devices. For example, if you have a Purple
iPad Air
or
iPad mini
, it will be best complemented by the Purple ‌iPhone 14‌. If you already have a Space Gray MacBook Pro, it will likely be best accompanied by a Midnight ‌iPhone 14‌. Likewise, if you have a Starlight Apple Watch, it will obviously match the Starlight ‌iPhone 14‌, and the Pink 24-inch
iMac
will best match the PRODUCT(RED) ‌iPhone 14‌.
This article, "
iPhone 14 Color Options: Which Color Should You Choose?
" first appeared on
MacRumors.com
Discuss this article
in our forums
Source:
TechRadar