Coming away from all the press coverage and the demonstration videos that Apple released for its Vision Pro headset, most people would be forgiven for not realizing that there is an optional additional strap for the device that goes over the head.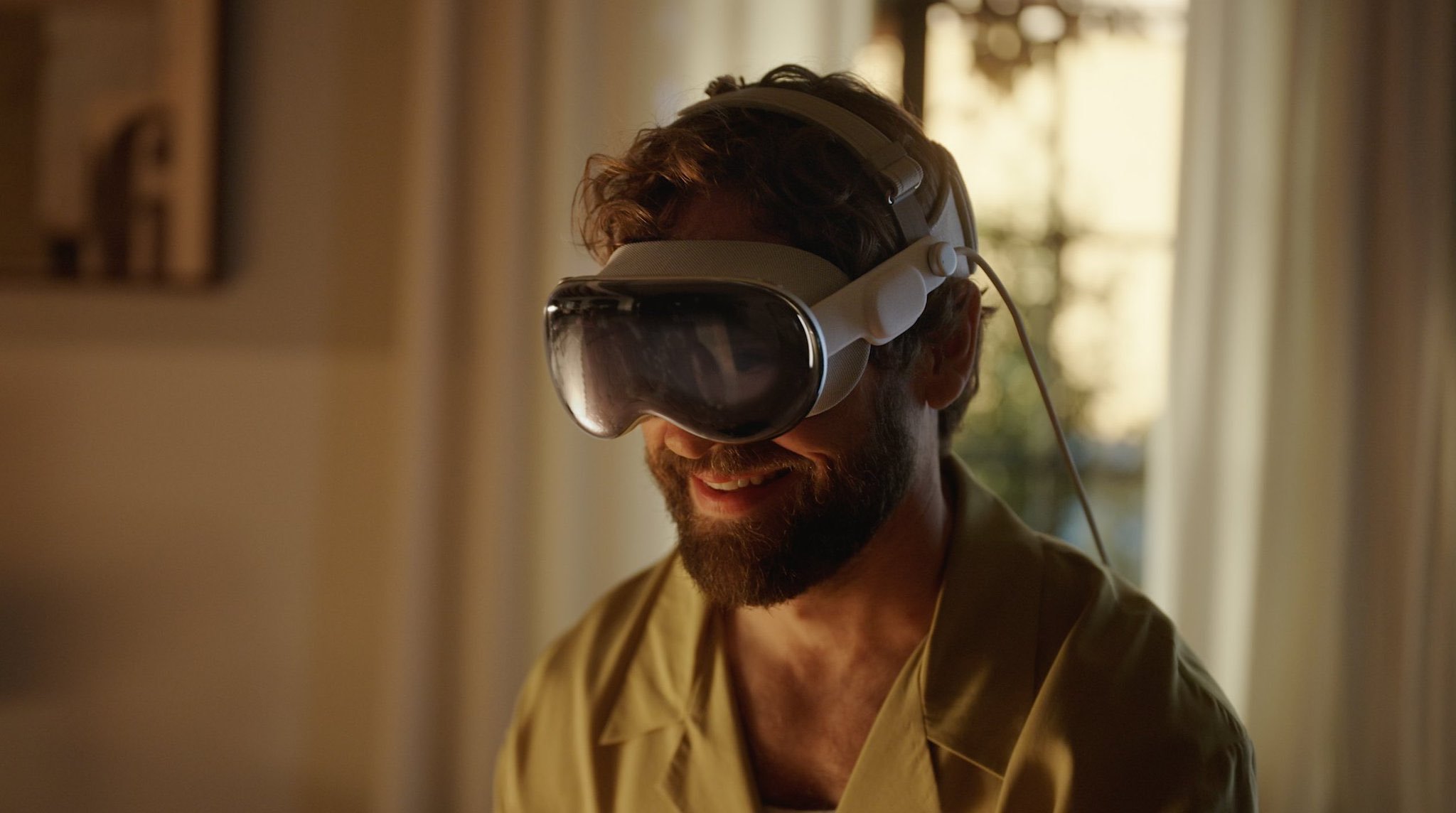 Still from Apple's WWDC keynote video showing over-the-head strap in use
The additional strap is presumably used to better disperse weight and/or keep the headset from being easily dislodged when the wearer is moving around. It only appeared once in Apple's WWDC keynote, in a brief scene where a man stands and records a video of children playing with bubbles using the headset's outward facing cameras.
Otherwise, it is conspicuous only by its absence in Apple's marketing materials. Indeed, Apple has not even mentioned the optional head strap, but some of those who got to try the headset in person in Cupertino this week, such as
MacRumors
videographer Dan Barbera, did get to use it.
"A lot of people probably didn't know this just by looking at some press images, but there is another band that goes over the top of your head," said Dan in his
initial impressions video
.
In his opinion, with the additional strap attached, the Vision Pro is "not that far off from other headsets in terms of weight," but it does "a really good job of dispersing that weight" and making it not so front-heavy. "I do think most people will want to use it," he added.
Apple has not revealed the weight of the Vision Pro, but Apple's decision to offload the battery to an external pack speaks volumes about the need to keep the headset as light as possible. The braided headband that goes around the back of the head has a fit adjustment dial, but by offering an additional strap, Apple implicitly seems to be acknowledging that the one headband may not be comfortable or secure enough for some users, especially if the device is going to be worn for extended periods of time.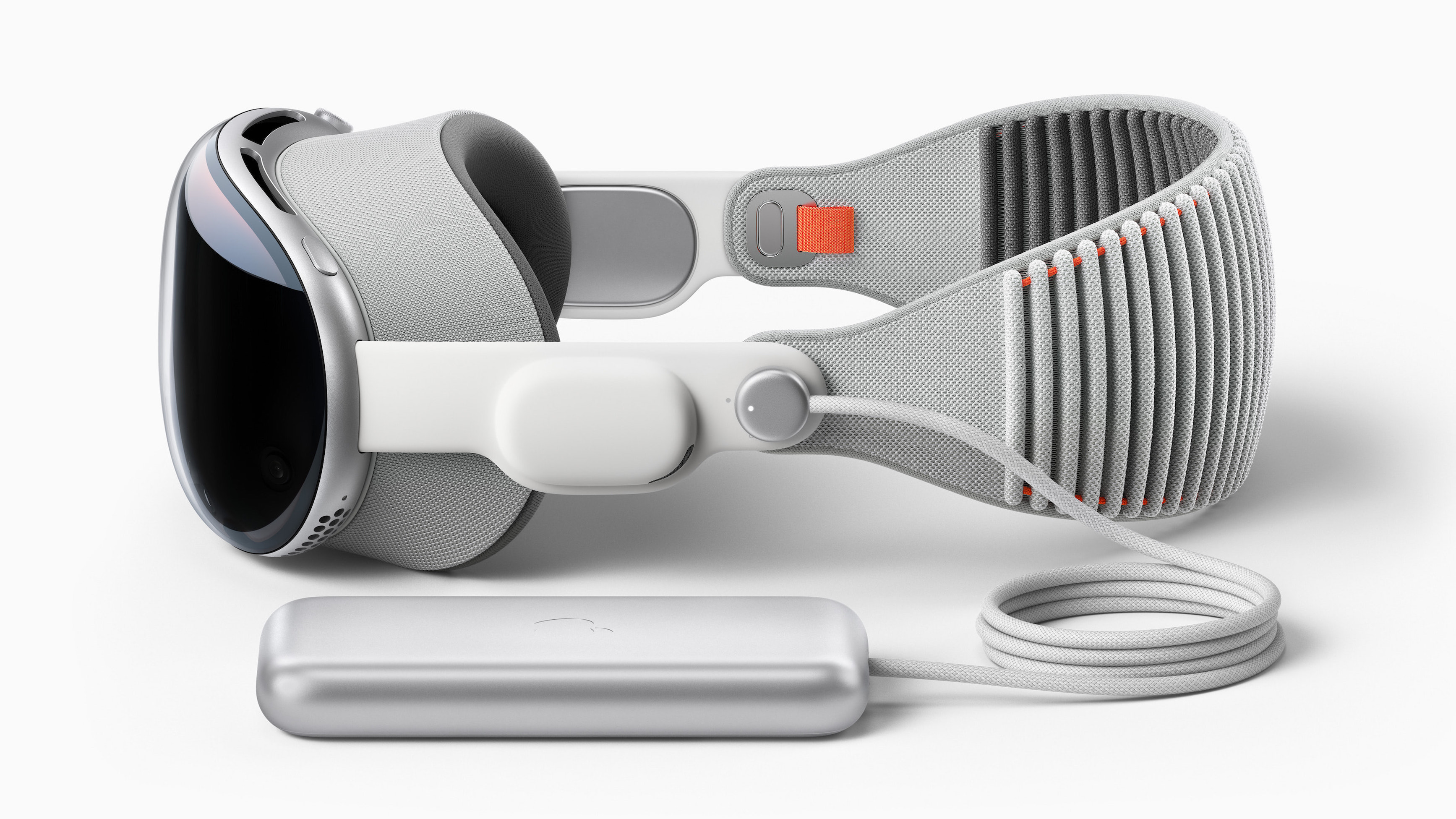 It's worth remembering that members of the press who got to try the headset did so only for around 30 minutes, which is some way off Apple's stated two-hour battery life (Apple even says it is designed for all-day use when plugged in to a power outlet). For example, in his own first impressions write-up,
Daring Fireball's John Gruber
did not mention any use of the additional over-the-head strap, but he did have this to say about the weight:
The single biggest downside from my demo experience is that Vision Pro feels heavier on your face than I had hoped it would. It's not uncomfortable — at least not for 30 minutes — but I never forgot it was there, and it just makes your head feel a bit front-heavy.
Since Apple hasn't discussed the existence of the additional strap, we don't yet know if it will be included in the box with the headset when it goes on sale next year. But given its relative absence in marketing materials, the likelihood is that it will be offered as a separate paid-for accessory for those who feel they need it.
Whether that will go down well with consumers considering buying a first-generation product with a $3,499 starting price remains to be seen.
This article, "
Apple Still Hasn't Discussed the Vision Pro's Weight and Optional Top Head Strap
" first appeared on
MacRumors.com
Discuss this article
in our forums
Source:
TechRadar