Smart home accessory maker Aqara recently released the HomeKit-enabled Smart Lock U100 with support for Apple's Home Key feature. Home Key is an iOS 15 feature that's still in the process of being adopted by smart home manufacturers, so it's relatively new.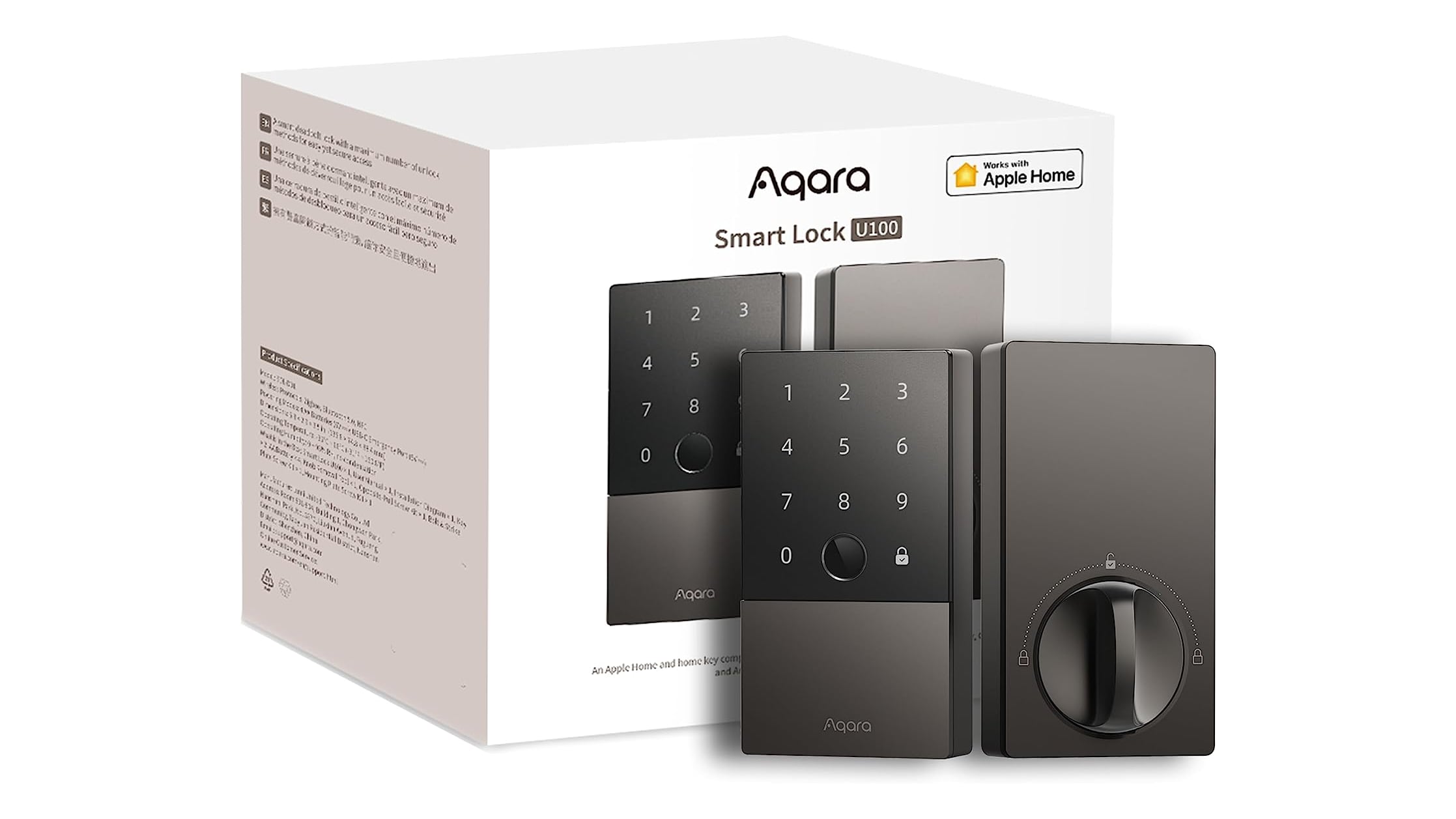 Home Key adds a digital key for the Aqara lock to the Wallet app on the
iPhone
and the Apple Watch, allowing it to be unlocked using NFC just by bringing the device close to the lock. There are also multiple other modes of entry for the Aqara lock, including a keypad and a fingerprint reader. Note that this is a Matter-enabled product, so in addition to working with
HomeKit
, it also works with Google Home and Amazon Alexa.
Aqara's products are designed to use a hub, similar to how the Philips Hue system works. The
USB-A Aqara E1 Hub
I tested with connects to your ‌HomeKit‌ setup, and Aqara products, including the U100, connect to the hub using Zigbee. So technically, this is "Matter over Zigbee," but Apple users just need to know that it's ‌HomeKit‌ and that a hub is necessary for full functionality. Some people aren't fans of ‌HomeKit‌ devices that need hubs, but I don't mind because they can be more reliable and hassle-free than products that connect directly to WiFi.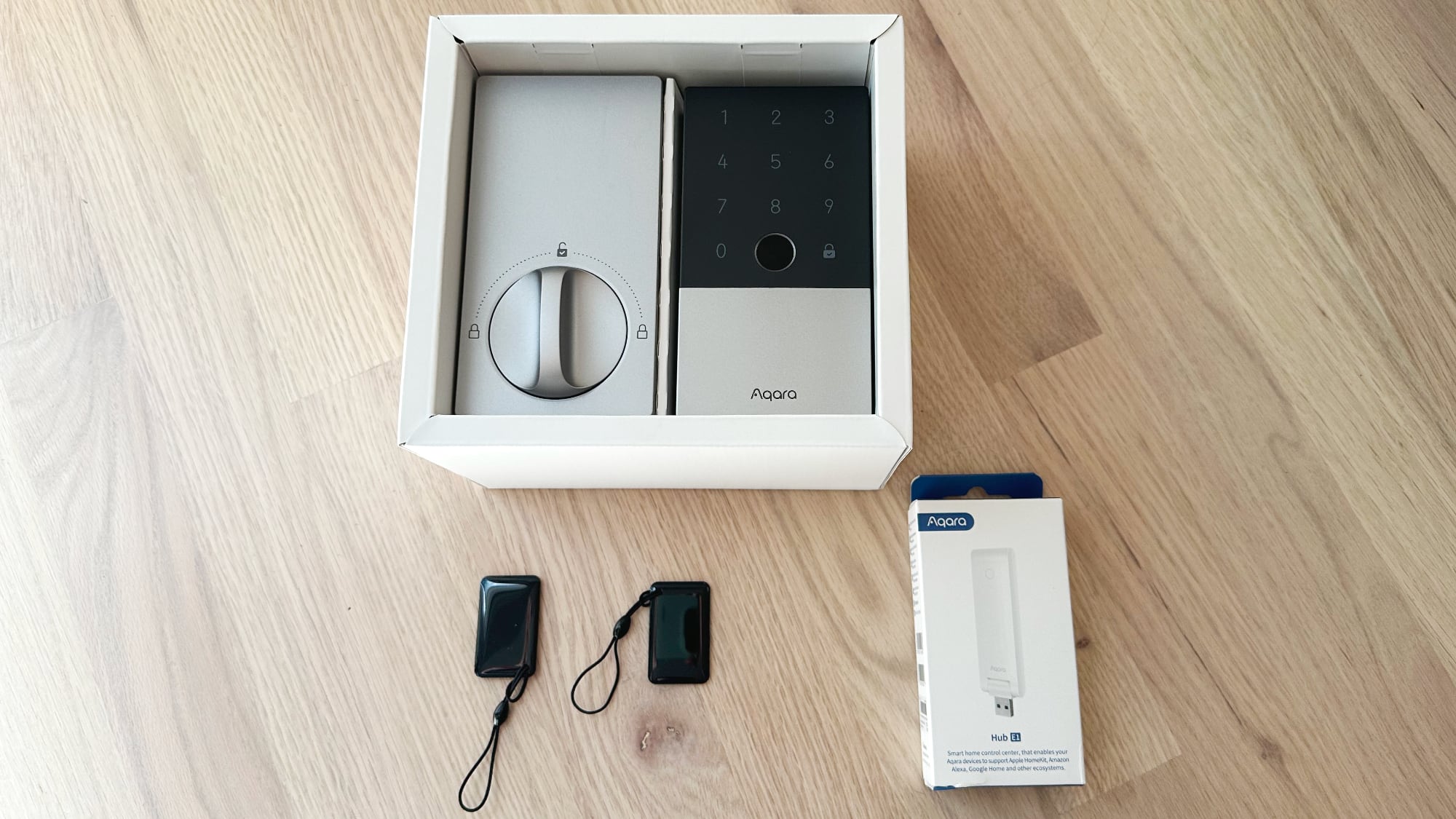 Note that the U100 can be used sans hub, but without a hub, the lock only works over Bluetooth and will be slower to function. To use all of the features, you need a hub, and you'll also need an Apple device that serves as a home hub for options like Home Key for all family members. Home hubs include the
HomePod mini
and the
Apple TV
, which most people in the ‌HomeKit‌ ecosystem probably own.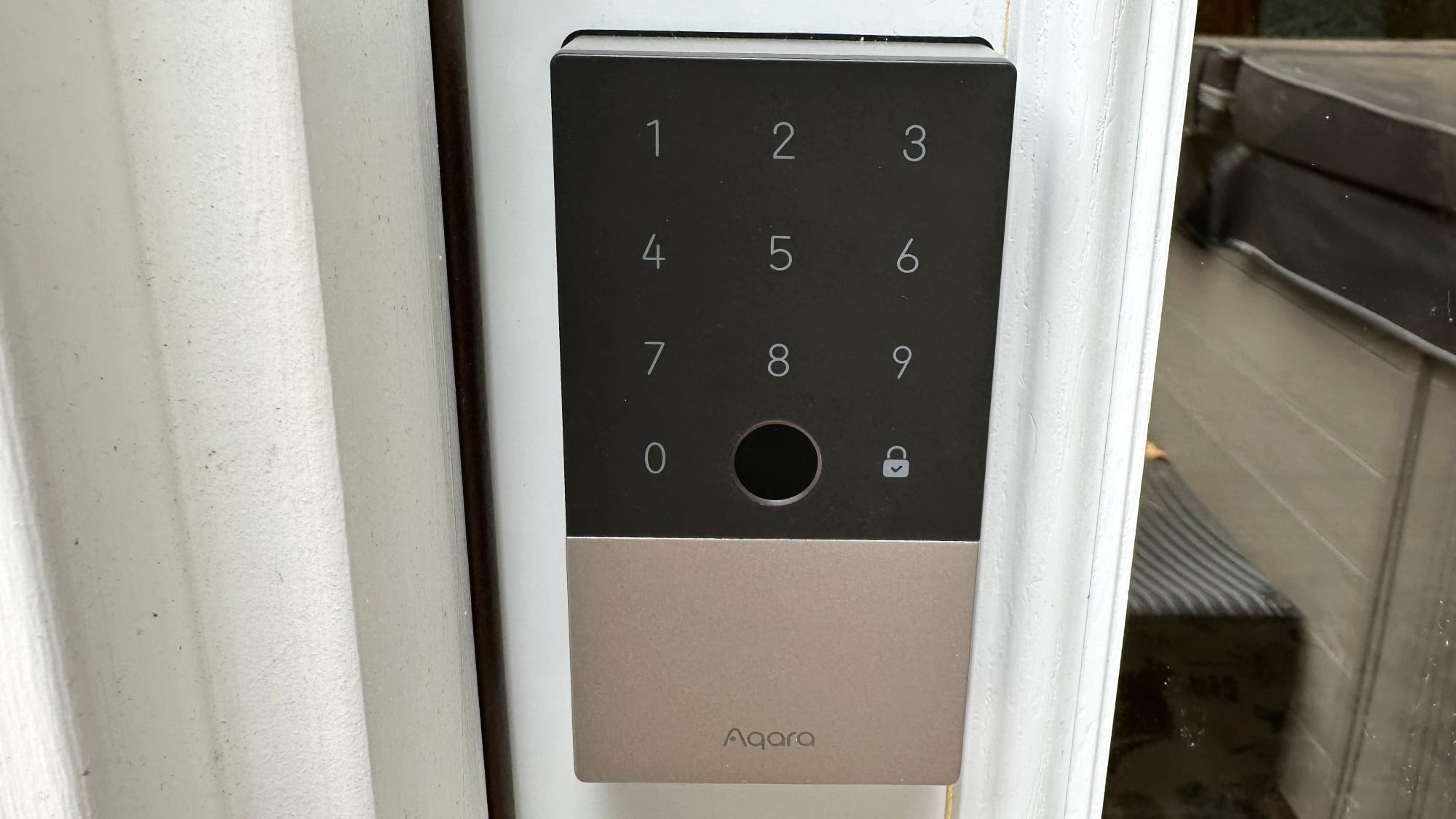 Design wise, the Aqara Smart Lock U100 looks like a standard keypad-based lock. It's not as slim as some other smart locks on the market, with a large rectangular brick for both indoors and out. It comes in silver and gray finishes to match handle hardware, though my door had gold hardware that I could not match.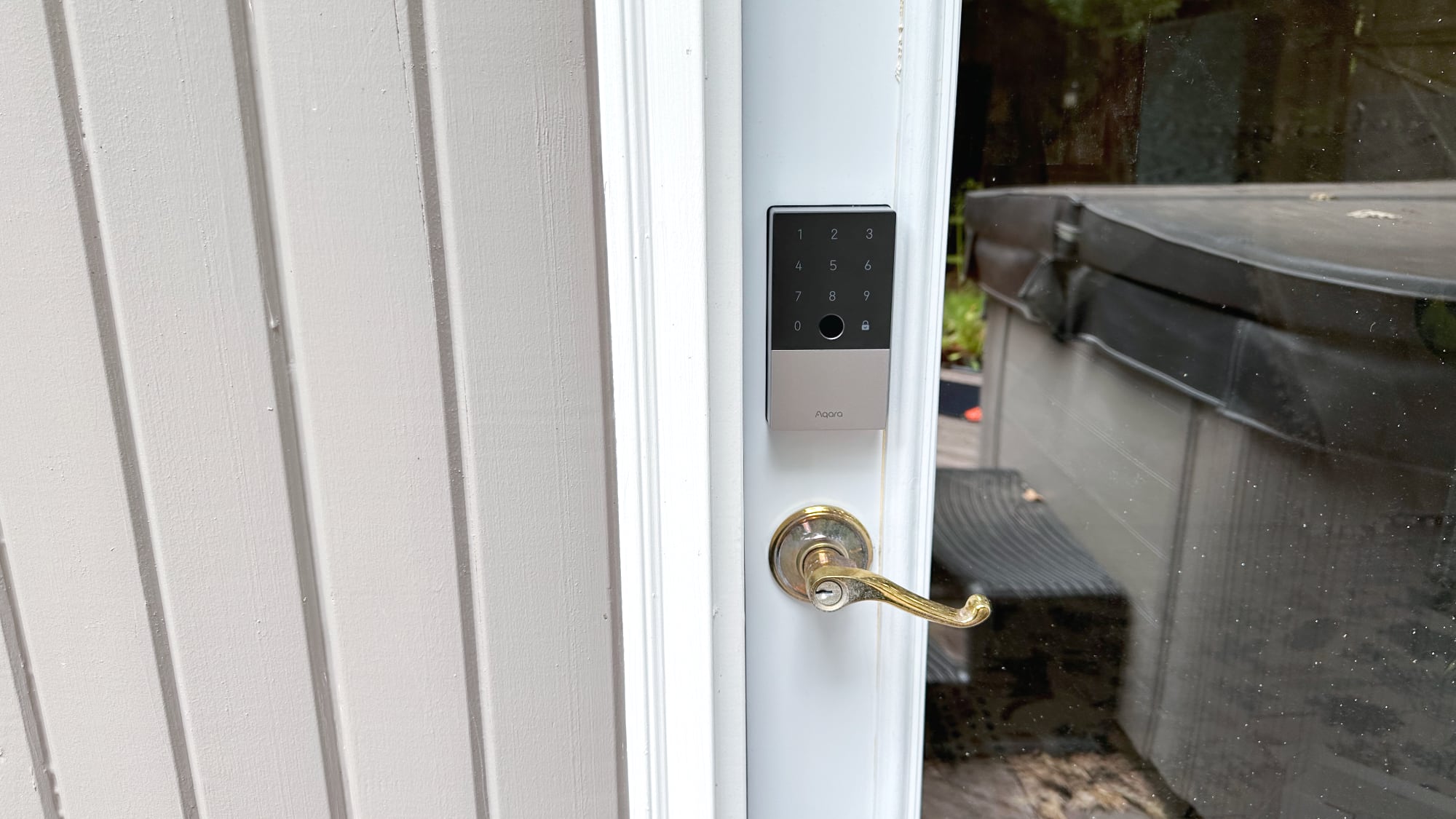 The look of the U100 is probably my least favorite aspect of the lock. It's big and bulky, both indoors and out. I don't mind it so much outside, but I do wish the indoor component was more streamlined similar to other ‌HomeKit‌ locks like the Level Lock.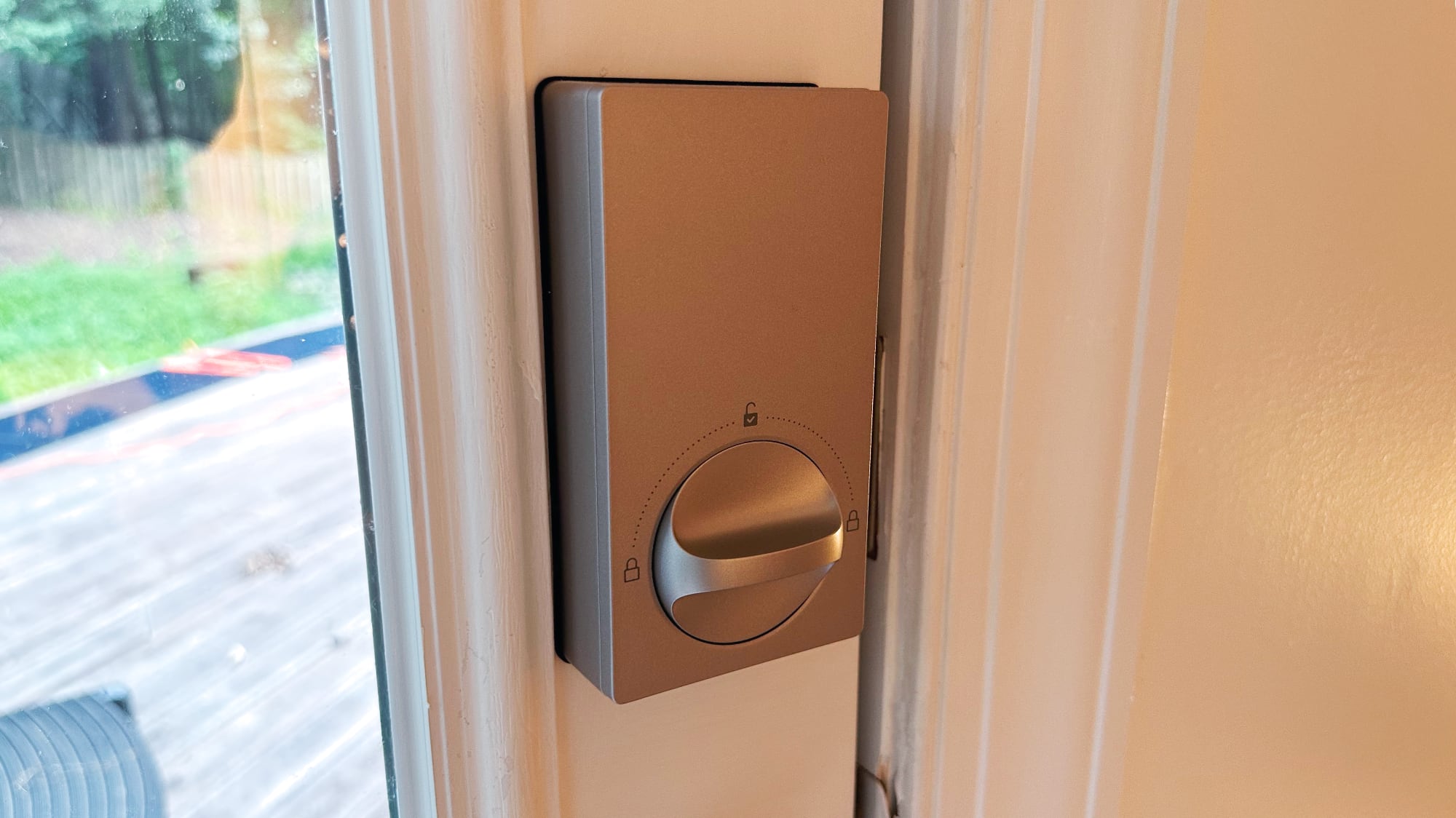 There are probably more ways to get into this lock than anyone needs, but if you like options, this product delivers. You can use the keypad, the built-in fingerprint sensor, the hidden key compartment (using a traditional key), Home Key using an ‌iPhone‌ or Apple Watch's NFC, an NFC card (sold separately), the Home app, or the Aqara app. You can provide temporary codes to people who need access to your home through the Aqara app, and you can remotely lock and unlock the U100.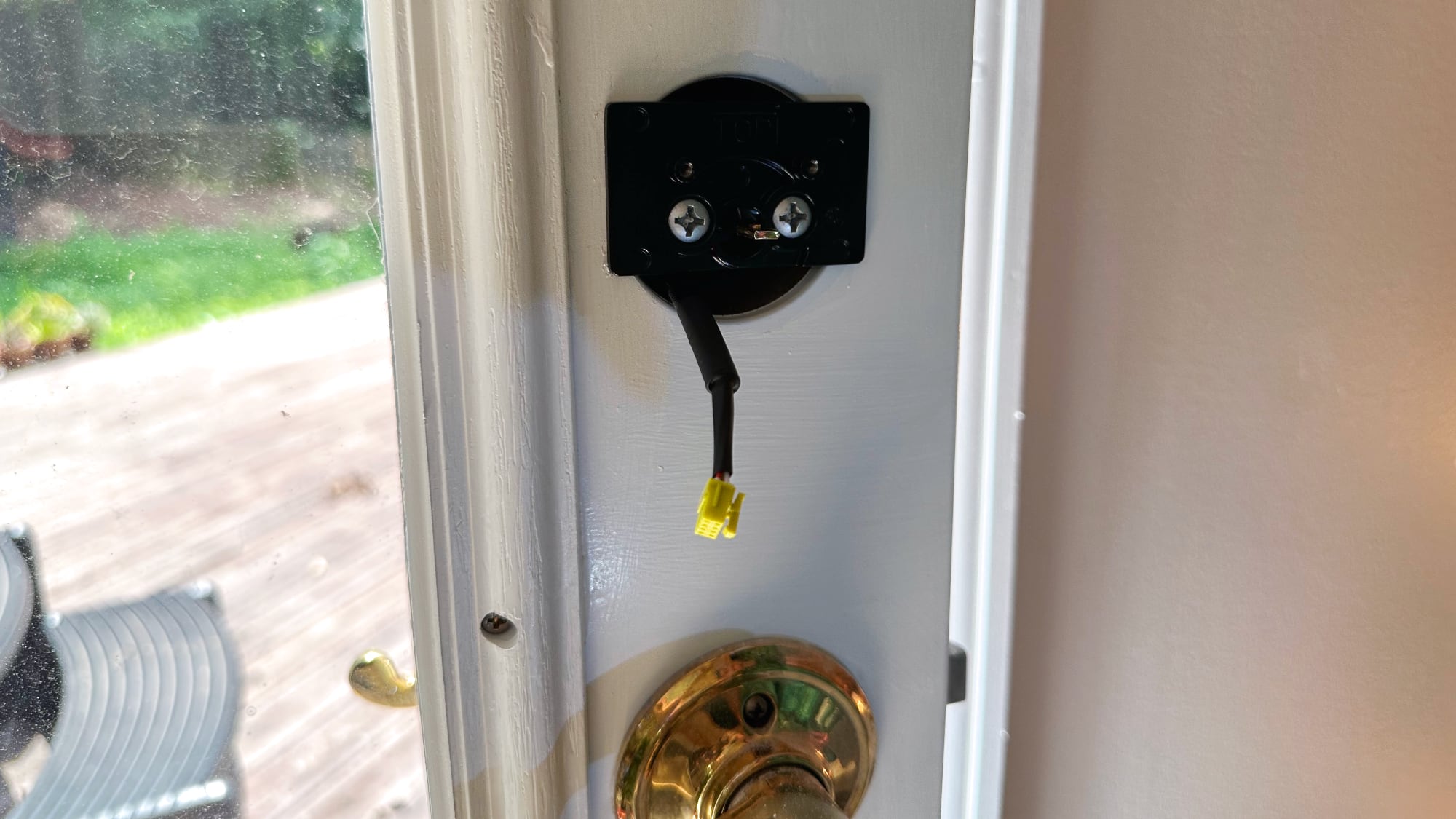 Of these entry methods, the Home Key and the fingerprint sensor are the quickest to use. The fingerprint sensor was accurate and unlocked the U100 almost as quick as
Touch ID
unlocks an ‌iPhone‌. I didn't have it fail, and I was able to register several fingers so multiple people could save a fingerprint. There is a hidden key compartment that allows access to the lock even with no power in case the battery runs out.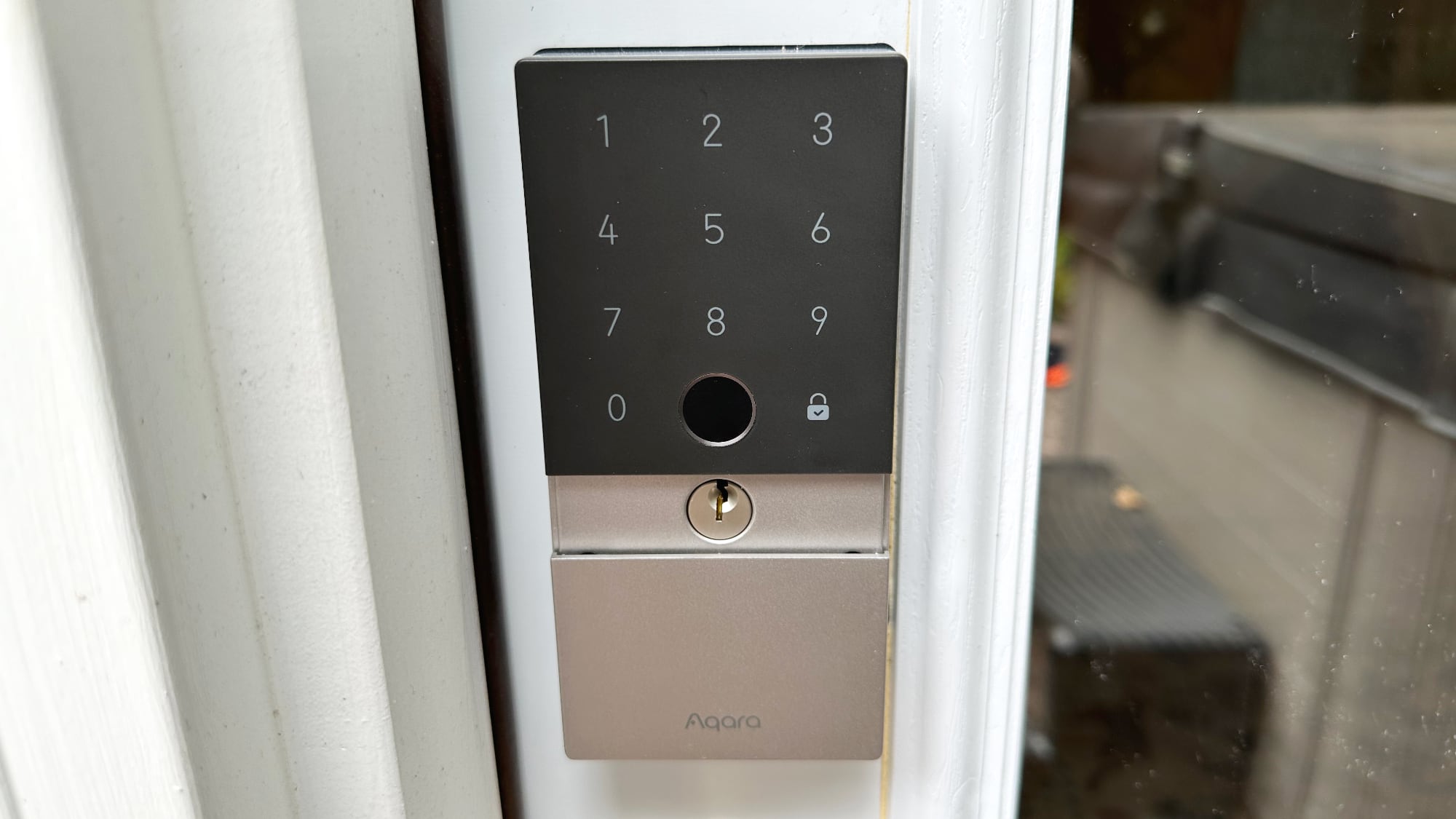 The U100 uses four AA batteries that last for up to eight months (allegedly, I did not get to test this), and you do get warnings when the battery is low. I'm not a fan of standard batteries in electronics, and would have preferred something rechargeable as an option.
In terms of security, the U100 is a straightforward lock like a lot of consumer deadbolt locks on the market. A skilled lockpicker can get it open in a few minutes, but someone who really wants to get inside your house is going to do so even if you have the most secure lock on the market because there are other points of ingress like windows.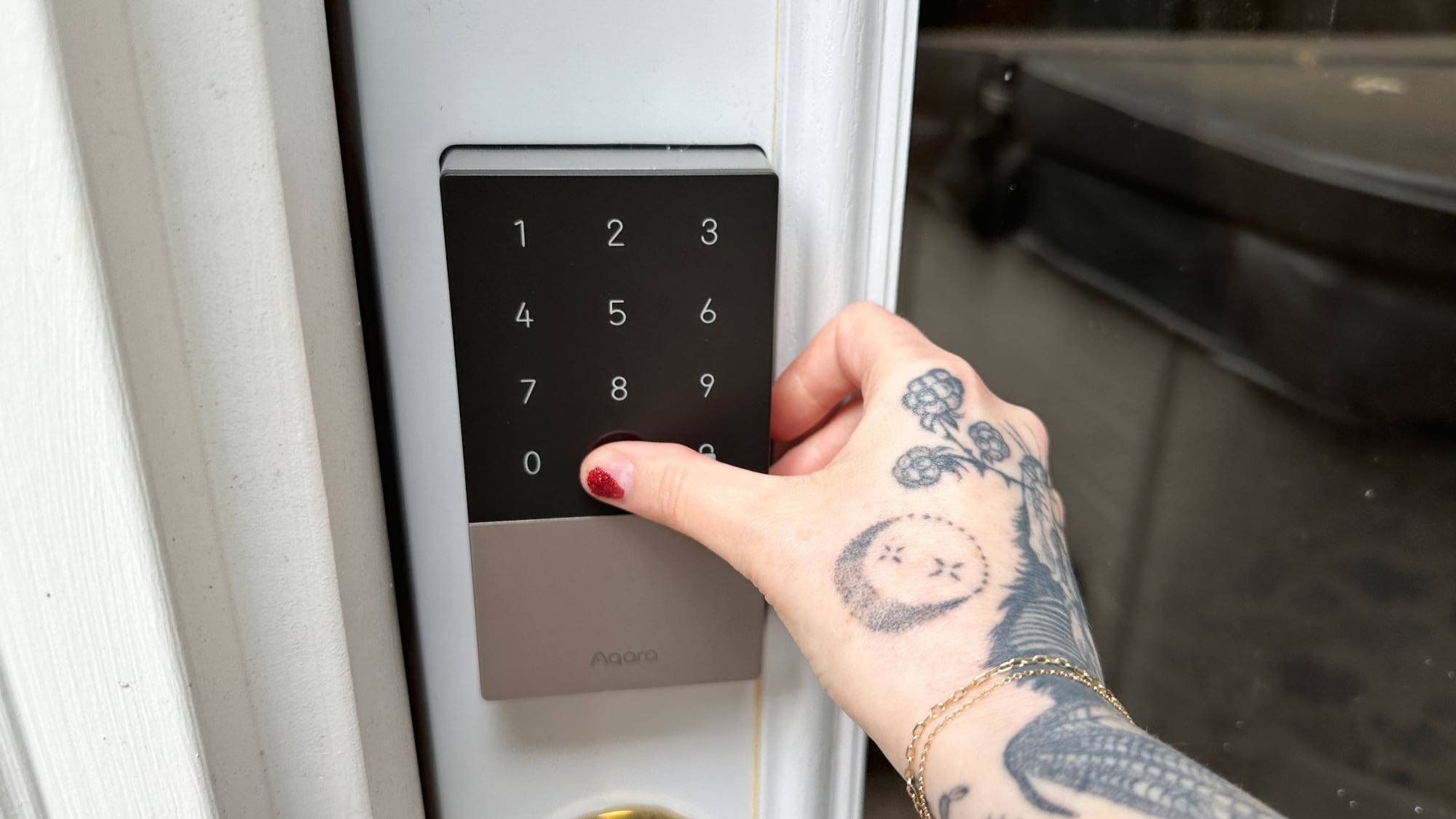 One of my favorite U100 features is the auto lock function that locks the door when it's closed. It can detect when the door shuts using a gyroscope, which ensures that the door re-locks every time I close even if I don't remember to manually lock it. This can be disabled if you prefer to have the lock left open.
There are a couple of NFC keyfobs that come with the U100 in case you need to give a key to someone, but guest options also include remote unlocking and shared codes. The number pad is responsive and lights up when a number is pressed so you can make sure you're inputting the correct code, plus the lock speaks aloud.
Setting up the U100 was fairly straightforward and took about 20 minutes. I had to remove the existing deadbolt from my door, and luckily, the U100 hardware fit relatively well. I could not use the plastic insert that came with it because I didn't want to enlarge my strike plate, but it seems like it will fit most standard doors. I have run into situations with previous smart locks where I had to do a little sanding and reshaping, so that's always a possibility.
As for the smart home setup, that was a little more complicated, but nothing that was hard to follow. I put the batteries in the lock, downloaded the Aqara app, and installed a Matter firmware update that was available. Then I plugged in the hub and linked it to ‌HomeKit‌ using the in-app tools and Aqara's instructions (note: a 2.4GHz network is required). From there, I connected the hub and the lock, and then registered the lock with ‌HomeKit‌. It was a multi-step process but I haven't had connectivity issues with the hub, and the lock responds to commands both when I'm at home and when I'm away.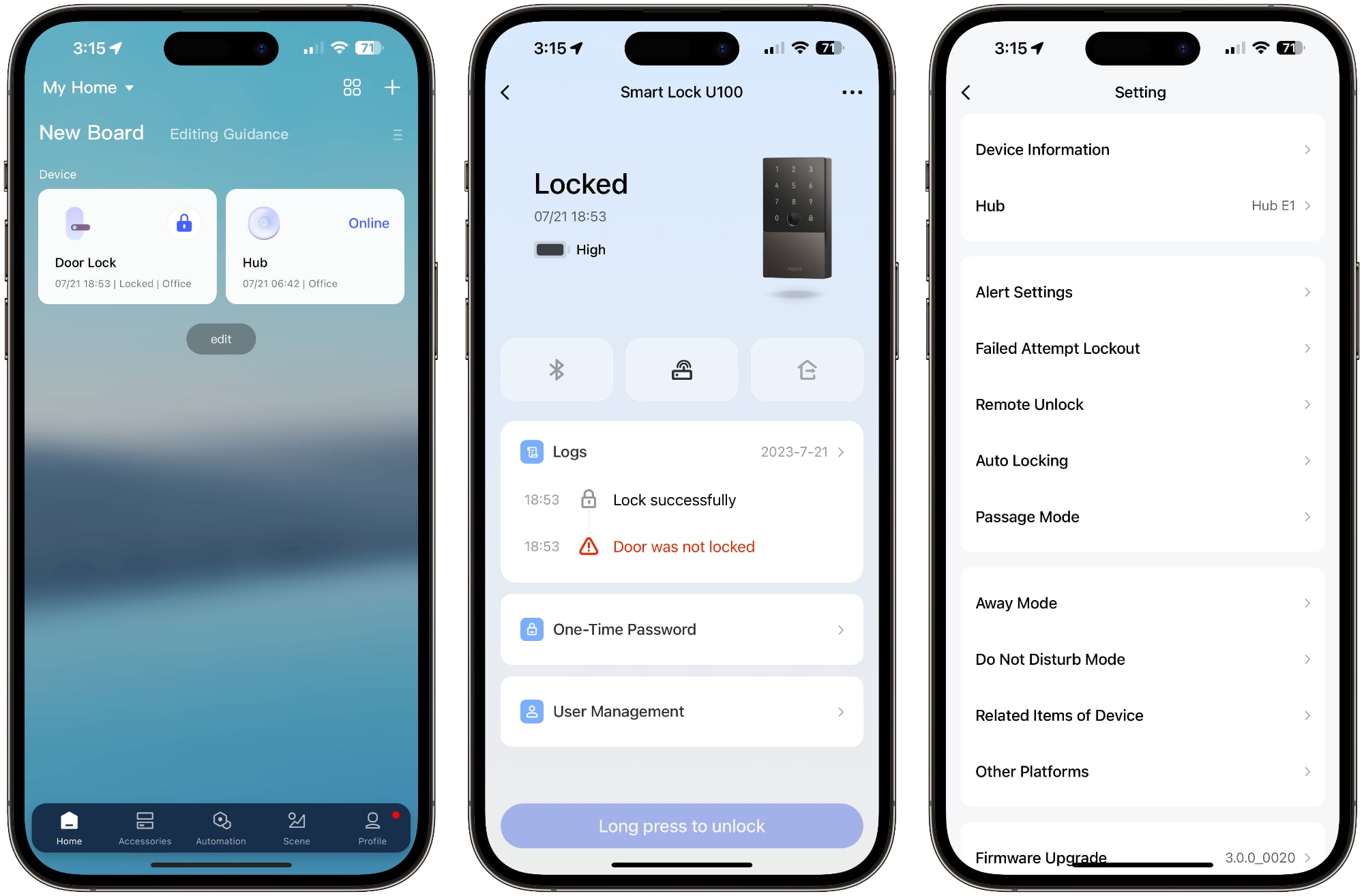 The Home app can be used to set ‌HomeKit‌ automations for locking and unlocking the U100, as well as managing access to the lock. The Aqara app has additional tools that are mostly useful if you don't have a ‌HomeKit‌ setup, but it does include battery life and a log of every time the lock is accessed. For those who don't like the voice feedback, it can be disabled with a Do Not Disturb mode in the Aqara app. I did have to make an Aqara account to access the lock in the app, but it was easy enough aside from some irritating password limits.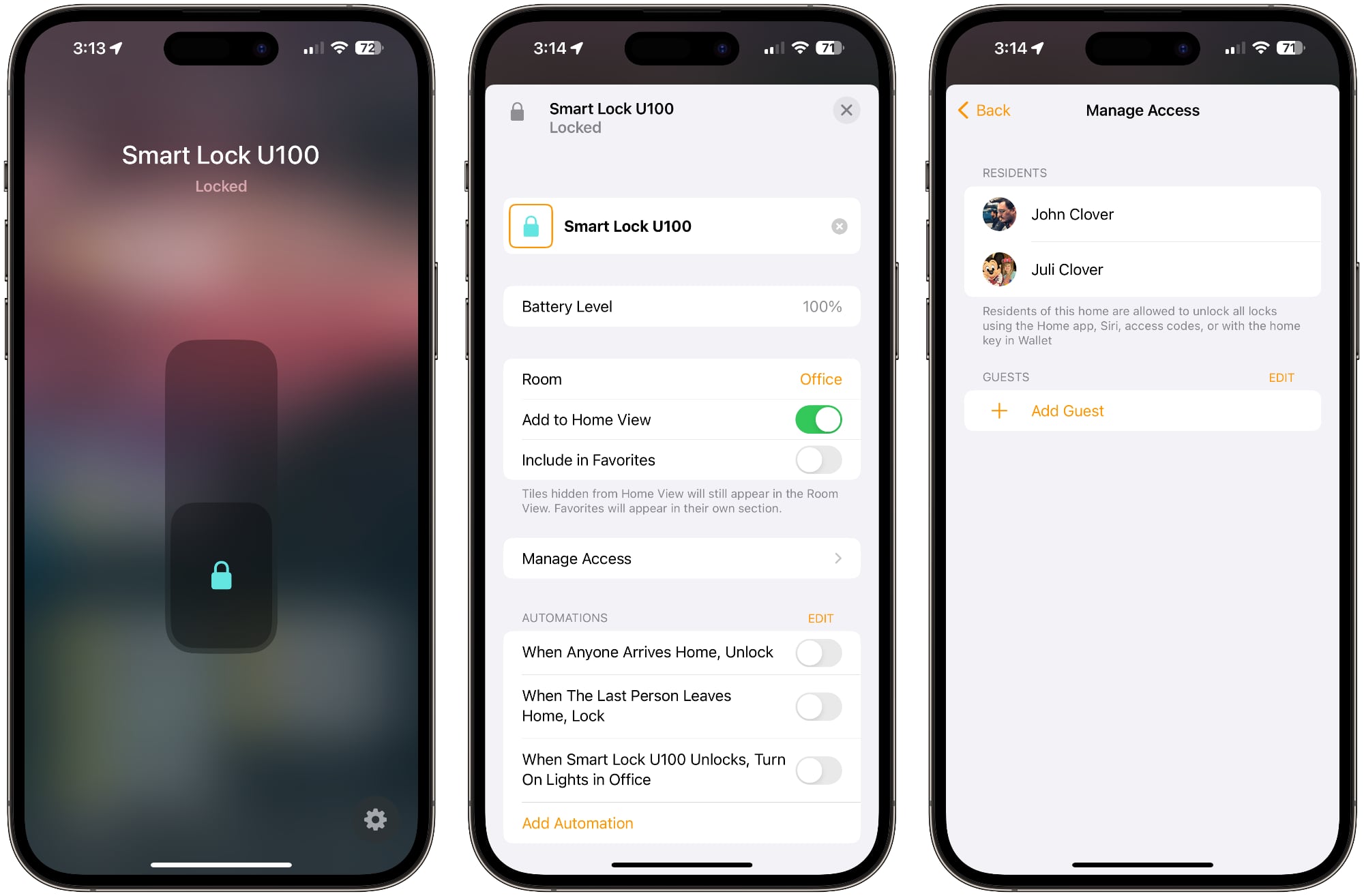 The U100 can be used without ‌HomeKit‌ because there are several other connectivity methods including compatibility with other smart home platforms, but I only tested the ‌HomeKit‌ functionality and with a hub, as I have a ‌HomeKit‌ setup.
Bottom Line
At $190, this is a full-featured smart lock that rivals other more expensive smart locks on the market. It has every method of entry you could want, including number-based touch pad, fingerprint sensor, Home Key, and NFC keys. On the downside, it is not as sleek and unassuming as some other smart locks on the market, but if that does not bother you, it's worth looking into.
How to Buy
The Aqara U100 can be
purchased from Amazon
for $190.
This article, "
Review: Aqara's U100 Smart Lock Offers Home Key Support, Fingerprint Unlocking and More
" first appeared on
MacRumors.com
Discuss this article
in our forums
Source:
TechRadar