The Apple Watch has received some incremental updates in recent years, with significant upgrades becoming fewer and farther between as the device has progressed. Since the Apple Watch's generation-over-generation enhancements are relatively small, it is all the more important to consider when an upgrade is justified and whether an older model could suffice for your needs.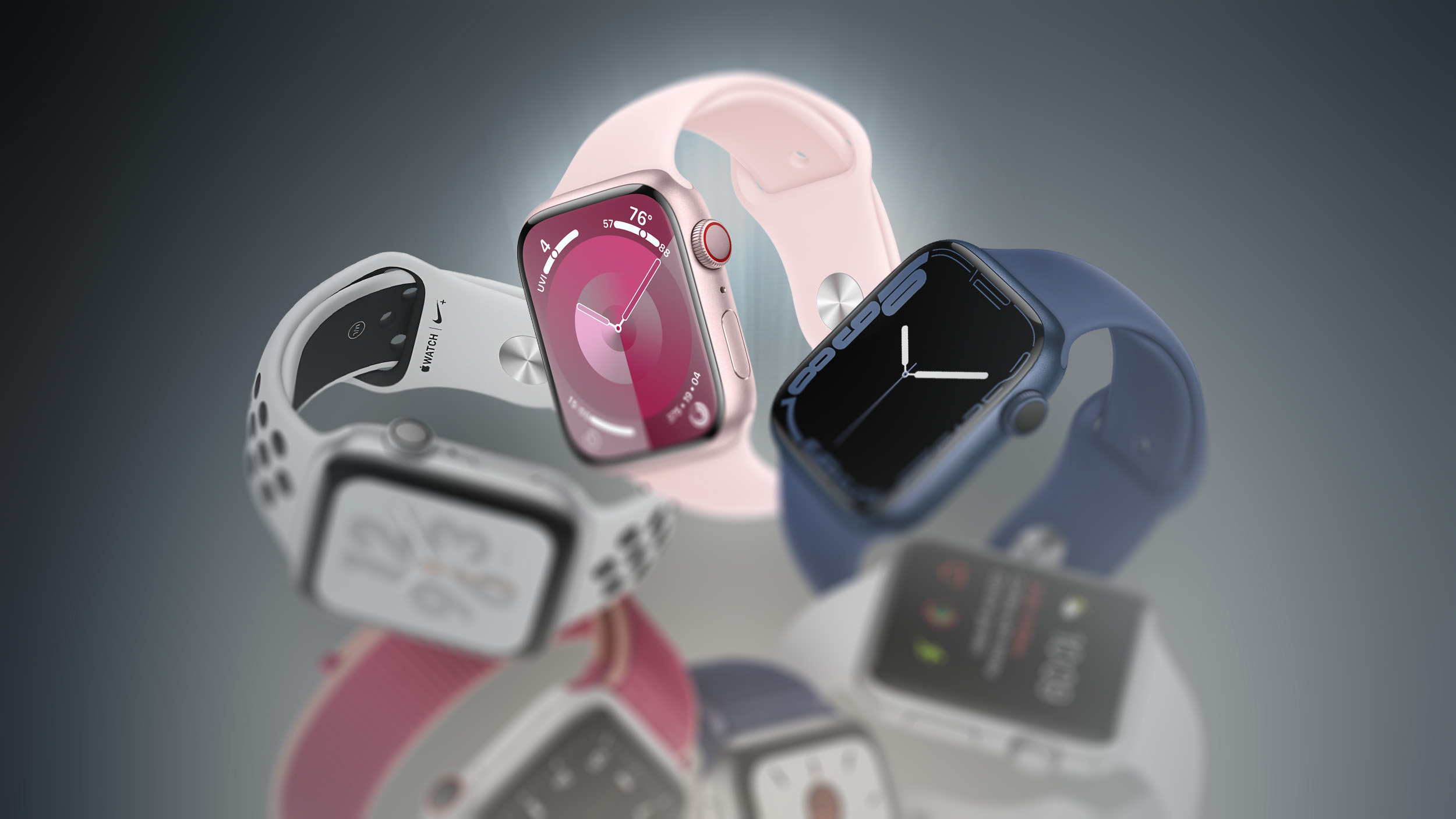 The
Apple Watch Series 9
's headline upgrade is the S9 chip, bringing improved performance to the Apple Watch for the first time in four years and facilitating features like Double Tap. It is priced starting at $399. Last year's Series 8 introduced body temperature sensing and Crash Detection, but the last moderately significant update for the device was 2021's Series 7, which introduced larger display sizes and fast-charging capability. All previous Apple Watch models from before the Series 9 have been discontinued, but older models may still be found for even lower prices from third-party retailers or second-hand.
Read on to see the breakdown below for each new feature, change, and improvement that was added with each Apple Watch model compared to its direct predecessor. Viewing each generation's changes in this way helps weigh up the accumulative upgrades one receives by skipping multiple generations when buying a new device, as well as get a sense of which generations offered the biggest overall upgrades.
Apple Watch Series 9 (2023)


Retina display with up to 2,000 nits of brightness


Display can get dimmer in dark rooms and at night (down to 1 nit of brightness)


Double Tap gesture


S9 chip (based on A15 Bionic)


4-core Neural Engine (x2 faster than Series 8)


Siri‌ processed on-device for requests that do not need information from the internet


‌‌Siri‌‌ can access health and fitness data


25% more accurate dictation


Second-generation Ultra Wideband chip


Precision Finding for iPhone 15 models


HomePod proximity integration


64GB storage


Pink aluminum casing introduced


Apple Watch Series 8 (2022)


S8 chip (same CPU as S6)


More powerful gyroscope and high dynamic range accelerometer


‌Crash Detection


Body temperature sensor


Wrist temperature sensing during sleep


Cycle tracking with retrospective ovulation estimates


Blue and Green aluminum casings discontinued, Silver aluminum reintroduced


Apple Watch Edition discontinued


Apple Watch Series 7 (2021)


41mm and 45mm case sizes


1.7mm display borders for almost 20% more screen area than Series 6


QWERTY keyboard


Up to 70% brighter display than Series 6 indoors when wrist is down


S7 chip (Same CPU as S6)


Crack-resistant front crystal (50% thicker)


IP6X dust resistance


Fast charging for up to 80% charge in about 45 minutes (33% faster than Series 6)


Silver and Space Gray aluminum casings discontinued, Midnight, Starlight, and Green introduced


Apple Watch Series 6 (2020)


Up to 2.5x brighter always-on display


Access Notification Center, Control Center, and Complications when display is asleep


S6 chip (based on A13 Bionic, 20% faster than S5)


Always-on altimeter


First-generation Ultra Wideband chip


2.4GHz and 5GHz Wi-Fi


Blood oxygen sensor


Faster charging for a full charge in under 1.5 hours


Improved battery life for tracking certain workouts, such as indoor and outdoor runs


Blue and (PRODUCT)RED aluminum casing options introduced


Space Black stainless steel casing available with Apple Watch Hermès only, Graphite option introduced


Ceramic Apple Watch Edition discontinued


Apple Watch Series 5 (2019)


Always-on Retina display


Force Touch removed


S5 chip


Compass


32GB storage


Apple Watch Edition reintroduced with White Ceramic, Natural Titanium, and Space Black Titanium casing options


Apple Watch Series 4 (2018)


40mm and 44mm case sizes


Over 30% larger display with curved corners


3.0mm display borders


S4 chip (2x faster than S3)


Gyroscope and accelerometer


Barometric altimeter


Fall detection


2.4GHz Wi-Fi


Optical heart sensor and electrical heart sensor for ECG


16GB storage


Digital Crown with haptic feedback


50% louder speaker


Relocated microphone for reduced echo and better sound quality


Faster charging for a full charge in 1.5 hours


Gold stainless steel casing introduced


Apple Watch Edition discontinued


Apple Watch Series 3 (2017)


S3 chip (70% faster than S2)


Barometric altimeter


Bluetooth 4.2


‌Siri‌ able to speak through the onboard speaker


LTE cellular model available with red Digital Crown


Rose Gold aluminum casing discontinued


Gray Ceramic Apple Watch Edition model introduced


Apple Watch Series 2 (2016)


Retina display with up to 1,000 nits of brightness (2x brighter than previous generation)


S2 chip (dual‑core)


GPS and GLONASS receiver


Water resistant up to 50 meters


Gold and Rose Gold aluminum casing options added


18K Gold and Rose Gold Apple Watch Edition discontinued, Ceramic model introduced in White


Apple Watch Nike+ variant introduced


The ‌Apple Watch Series 9‌ does not seem to provide a meaningful upgrade for most Series 7 and Series 8 users. If you have an Apple Watch Series 6 or older, upgrading to the ‌Apple Watch Series 9‌ will generally be worthwhile, with plenty of new features across the board. Discounted Apple Watch Series 7 and Series 8 models are also a good option for those coming from a Series 6 or older if you are looking to save money.
According to
Bloomberg
's
Mark Gurman
, Apple has
considered moving
the Apple Watch away from an annual upgrade cycle to offer more substantial updates less frequently. Next year's Apple Watch "Series X" is rumored to be a significant update to mark the tenth anniversary of the device, featuring thinner casings,
larger displays
, microLED technology, larger batteries, blood pressure monitoring, and a
new mechanism
for connecting bands.
This article, "
Apple Watch Series 9 Buyer's Guide: How Incremental Upgrades Stack Up Over the Years
" first appeared on
MacRumors.com
Discuss this article
in our forums
Source:
TechRadar